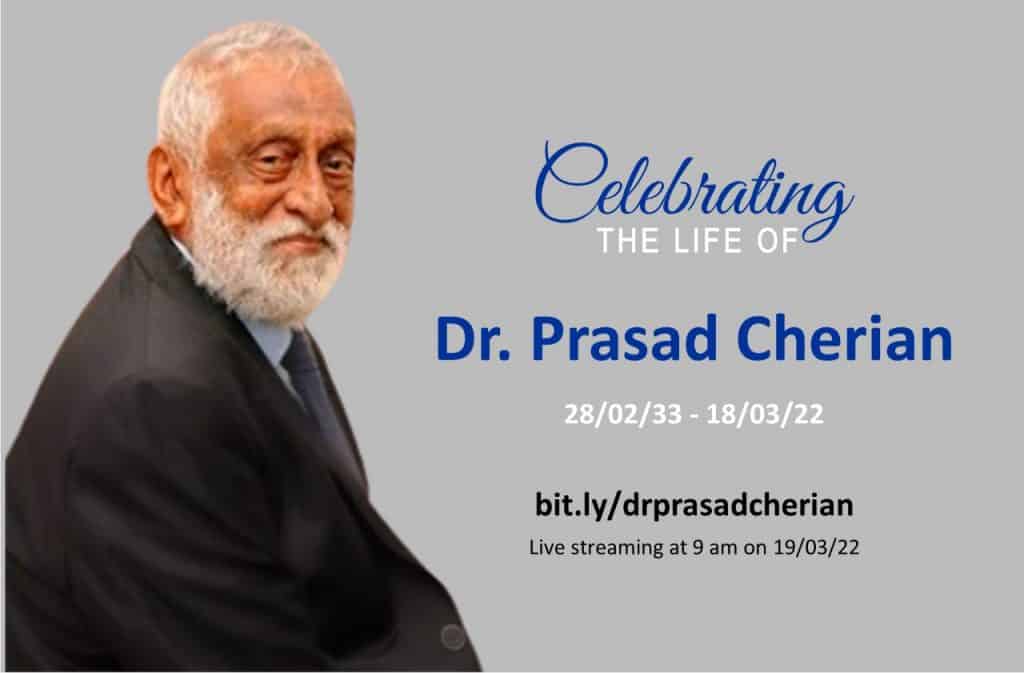 Dr. Prasad Cherian (T.C.J Prasad – 89) went to be with the Lord on March 18, 2022.  
Son of renowned Evangelist Late Cherian T. Cherian (Kunjappy Upadesi) he served the Government of India for 13 years and was the Managing Director of a Private Limited Law Consultancy Company for three years before entering into full-time Christian service with India Campus Crusade for Christ in 1978. He has served many years with India Campus Crusade for Christ as its Traveling speaker with Heartbeats, Bible teacher at the Staff Training Centre, and Regional Director for North India. He was serving as the National Prayer Coordinator and Secretary of the Governing Council just before his official retirement in 1998 and continued voluntarily in its prayer ministry till his homegoing. He also served as a member of the Advisory Board of the International School of Theology-Asia in the Philippines.
A man with a heart for God and a passion for perishing souls he has been tremendously used by God as a convention speaker and Bible teacher. He has preached to millions of people in India and abroad through public meetings, radio programs, audio/videotapes, and CDs. He is the author of On Earth and Beyond, God Dwells Among People, God's Own People, and a Malayalam Book Snehasopanam (Steps in Love). A man of prayer and of strong convictions, Dr. Prasad Cherian's messages were daringly direct.
India Campus Crusade for Christ family mourns the loss of a great evangelist and a prayer warrior and rejoices in his homegoing. 
Dr. Prasad Cherian is survived by his sons Stanley, Sankey, and daughter Sheri. His wife Mariyamma went to be with the Lord in 1999 and his daughter Shirley in 2019. Please keep Stanley, Sankey, Sheri, and their families in your prayer.
The funeral service of Dr. Prasad Cherian will be held at India Campus Crusade for Christ auditorium on March 19th, 2022, and will be streamed live. The viewing will start at 9 am and the service will start at 11 am on March 19th. Use any of the following links for watching the live stream
bit.ly/drprasadcherian or https://www.youtube.com/watch?v=emNtNkpLf0k